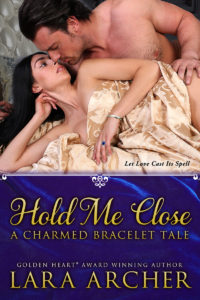 The stand-alone version of Julia's and Marcus's story (which appeared last summer in the Nice Girls Writing Naughty anthology The Charmed Bracelet) is out under its own cover now!!
I just love this super-romantic, sexy tale, with its subtle hint of magic.
Widowed young, Lady Julia Grantleigh can't imagine finding love again. Certainly not with the fearsome Major Holsworth, her late husband's boyhood best friend, whose harsh, brooding presence has always unnerved her.
But a mysterious gold bracelet that turns up in her chambers seems to have other plans. When its clasp gets caught in Holsworth's uniform, some disrobing is required—and Julia discovers the fine line between fear and desire.
After one madly passionate night, Marcus Holsworth is as determined as Julia is to put their indiscretion behind them. Although he has secretly loved her for years, as a farmer's son, he feels he has no right to a lady of Julia's highborn class, and he won't dishonor his best friend's memory by embroiling his widow in scandal.
The bracelet, though, has a powerful secret history which pulls Julia and Marcus back together. As danger from the past threatens, they must learn soul-shaking lessons about when to let go, and when to hold tight for a chance for love.
Get your copy today, and share in the magic!
Available at Amazon.