Happy Holidays, everybody!! It's the MOST DELICIOUS time of the year!!
If you're hosting a holiday party soon, and looking for fabulously festive recipes, you may want to include some gluten-free treats for guests who otherwise must steer clear of the cookie buffet.
Many gluten-free cookies and pastries require special gluten-free flours, but if you want to whip up a quick cookie with things you've probably already got in your holiday kitchen, I've got a recipe for you!
(A nice plus for guests who keep Passover: these treats are also kosher for Passover as long as your vanilla extract is…just check the label.)
The recipe follows, but first I've got another treat on offer: for anyone who leaves a comment below (any holiday greeting will do!), you'll be entered in a random drawing to win a PRINT copy of your choice of any of my books!
That's the spicy treat….now for the sweet one!!!
***********************************
SUPER-EASY FLOUR-FREE MACAROONS
This recipe makes about 2 dozen cookies.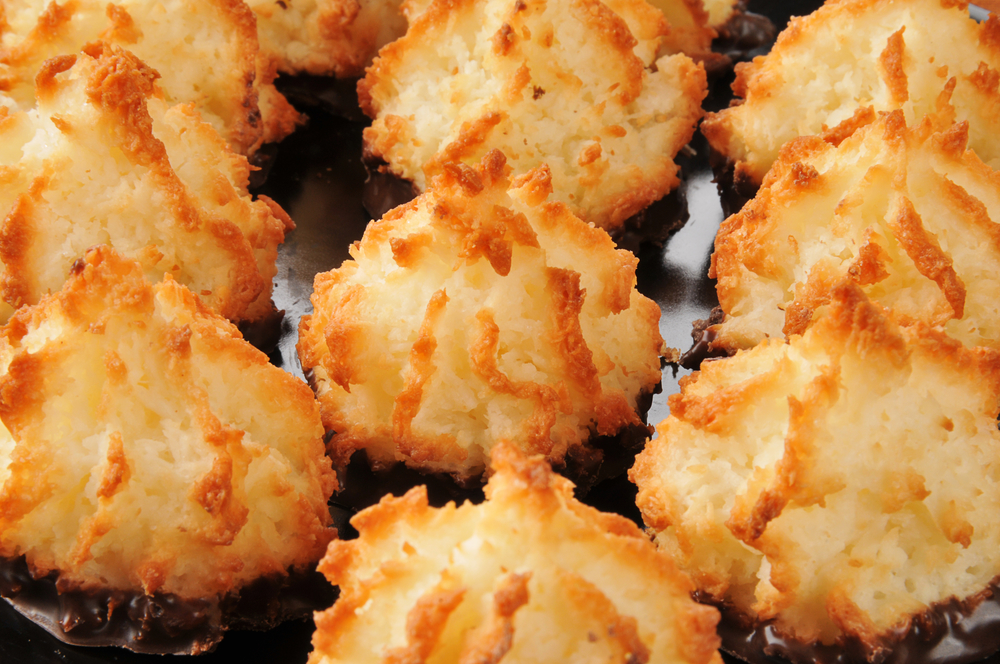 Ingredients
3 cups sweetened, shredded coconut (pack well in measuring cup)
4 large egg whites
1/2 cup sugar
1/4 teaspoon salt
1 teaspoon vanilla or almond extract…or ½ teaspoon of each!
Instructions
OPTIONAL: If you like the coconut in your macaroons to have extra lovely toasty brown crispiness, spread the coconut on a baking sheet and toast for five minute until you just see a tad of color. Remember, they will toast more during baking. Let cool for a few minutes.
Move your oven rack into the bottom third of the oven, and preheat the oven to 350°F.
In a mixing bowl, whisk together egg whites, sugar, salt, and vanilla: The egg whites and sugar should be completely combined, and the mixture frothy but not stiff.
Add the coconut to the egg white mixture in your bowl. Stir until evenly moistened.
Shape the new mixture into balls: Make balls about 1 ½ inches in diameter, or use a small meatball scoop. Wet hands can prevent sticking. Space about an inch apart on a parchment-paper lined baking sheet (or silicone sheet).
Bake 15 to 20 minutes: When they're golden, they're done!
Let cool a few minutes, then transfer to a wire rack.
Yummy!!
For some extra fanciness, drizzle finished cookies with a bit of melted chocolate, or mix a few mini chocolate chips into the batter….or both!!
And if you're really wanting to expand your gluten-free cookie repertoire and don't mind tracking down some high-quality gluten-free flour, I highly recommend the wonderful site Gluten Free on A Shoestring. Her recipes are SCRUMPTIOUS!!!
****************************************************************
Ready for your next stop on the Cookie Hop? Have fun!!!
Once you've hit all the stops, remember to send me your complete cookie list at [email protected] to have a chance to win the $100 Amazon Gift Card Grand Prize!!
Diana Layne – http://dianalayne.com/2017/12/05/ruby-slippered-sisterhood-cookie-exchange/
Heather McCollum – https://www.facebook.com/HeatherMcCollumAuthor/
Lizzie Shane – https://www.facebook.com/LizzieShaneAuthor/
Julia Day – http://www.juliaday.com/
Jennifer Bray Weber – http://www.jbrayweber.com/
Katie Graykowski –  www.facebook.com/katie.graykowski
Hope Ramsay – http://hoperamsay.com/rss-christmas-blog-hop-giveaway/
Liz Talley – www.facebook.com/liztalleybooks
Elizabeth Essex – http://www.elizabethessex.com/christmas-cookie-hop-with-the-ruby-slippered-sisterhood/