I have two books on sale for just 99 cents as part of Zoey Derrick's SUMMER BLOW-OUT EVENT, which features lots of super-hot romances for $1.99 or less (some free), and also has a Rafflecopter giveaway for a $110 Amazon gift card!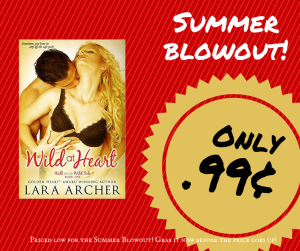 Cinematographer Nick Turner has desperately wanted independent film director Amber Wakeling for years, but he won't touch her. Their work together is the one thing that makes this notorious Hollywood Bad Boy feel like he has a soul. He's just not wired for commitment, and he won't risk his artistic bond with Amber for a few nights of even the most mind-blowing sex.
 A new shoot on Colorado's beautiful Wild Mountain, though, strains Nick's resolve to the breaking point. Somehow in this lush, unspoiled setting, the rules of civilized life don't seem to apply. When normally straight-laced Amber makes a sudden move on him, Nick is lost to desire.
 But will stepping off the safe path lead to heartbreak for both of them, or will Nick discover he's capable of something he's always thought impossible—true and lasting love?
WILD AT HEART is available for pre-order on Amazon, and releases September 17!
***************************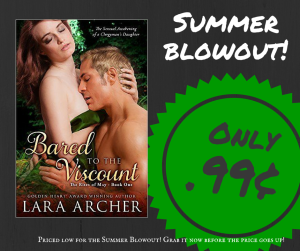 BARED TO THE VISCOUNT is available on Amazon, and is three dollars off its regular price through September 7.
Poor, plain spinster Mary Wilkins has no business falling in love with Viscount Parkhurst. They may have been best friends in childhood, but he's the wealthy, powerful lord of the manor now, and everybody knows he's bound to marry a beautiful local heiress. Mary tries to resign herself to a life of hopeless yearning, but when she and the viscount find themselves entangled in a stand of wild blackberry vines, unexpected passions flare.
The viscount can't seem to keep his hands off her. But is he planning to make her his wife—or only his secret mistress?